Some of you may have noticed the progress bars on my website. If you didn't, this is what was there for the past three months.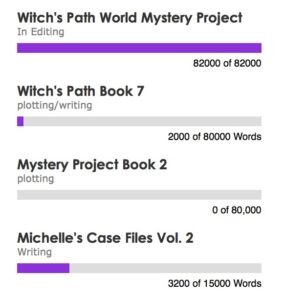 I've been working on "Witch's Path World Mystery Project" since the middle of July. With that title you might have thought it was a full length Logan novel. It isn't.
Let me introduce you a new series in Michelle's world, one I hope you'll love as much as I do.
Earth Born
A Dragon Lands Mystery
At twenty-two years old Shasta Oaks finally has her first job with the family business, Oaks Consulting. However, instead of tracking down criminals, she's in the Dragon Lands of Wyoming teaching adolescent dragons how to behave should they venture into the rest of the country. Some groups are better than others. The current lot is not better. In fact, they keep falling out of the sky. It's a good thing she's a half-elf half-witch or she'd have some very squished dragons on her hands.
With such an straightforward job, it could've been the solo assignment she requested. Instead Oaks Consulting, and more accurately her parents, gave her a partner. Cord is a perfectly nice elf, but he's hiding something. Even though it's causing strain in their relationship, she isn't inclined to discuss the issue. Shasta has a secret of her own, one she's spent her entire life hiding, and she's afraid he'll ask questions she can't answer.
When one of her dragons goes missing, Shasta quickly discovers that the job isn't as safe as everyone thought. There's evil brewing in the Dragon Lands. If she wants to save the dragons, she'll have to embrace the parts of her she'd been hiding and show the world the real Shasta.
Earth Born will be released January 2018.